MACHINE INFORMATION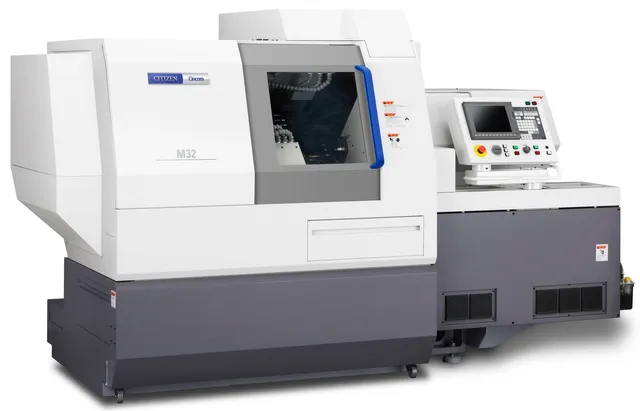 This next generation M32 machines include additional features for improved performance, function and ease of use.
Single drive for rotary tools on the turret tool post, together with updated tooling
Higher torque and output for all motors, achieving powerful machining and high acceleration/deceleration
Optimal balance of strength and weight greatly improves rigidity
15-inch, touch screen operation panel with HMI
Larger door and window for improved operability and in-machine visibility
38mm oversized specification option available
Easily Switch Between Guide Bushing and Non-guide Bushing Type
The M32 is equipped with a detachable guide bushing as standard. This allows the machine to be used as a regular guide bushing type automatic lathe for long and small diameter workpieces. Once the guide bushing is removed, it can be used to machine short workpieces with less material waste.
The M32 Type VIII includes a B rotational axis for slanted hole drilling and rotary contour machining (the angle range is -10° to 95°).