Switch beetween guide bushing and non-guide bushing type (standard) and machine bar stock up to ∅ 25 mm (optional)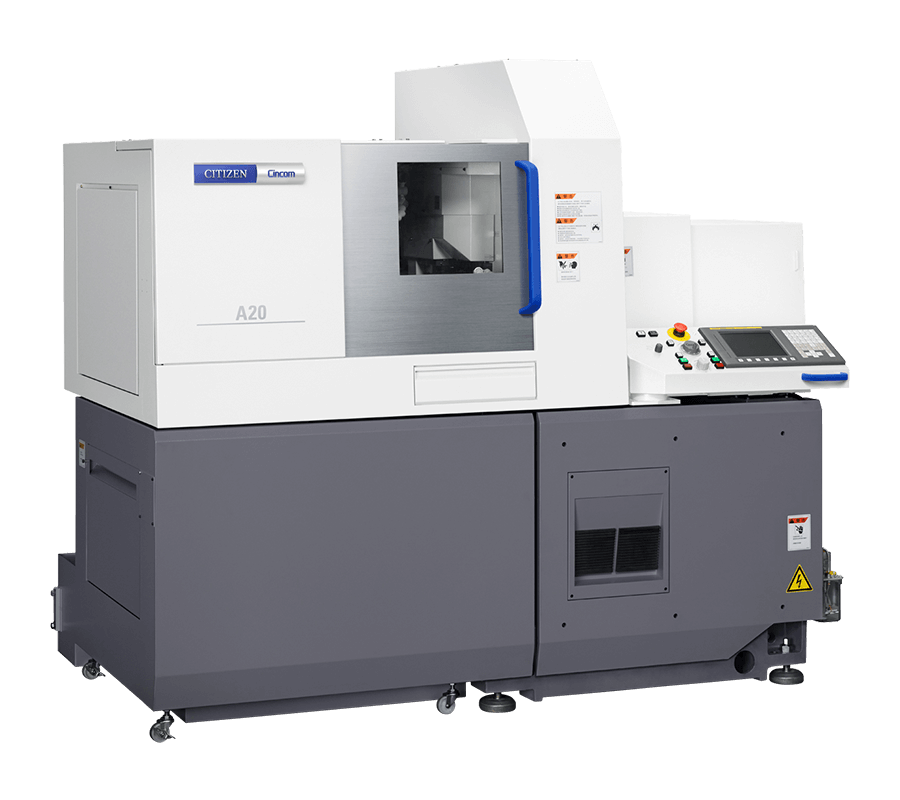 MACHINE INFORMATION
Acclaimed for its excellent cost to performance ratio, this next-generation A20 has evolved as a 5-axis machine (plus C1 & C2 as MCC standard) for ∅ 20 mm applications, with the advantage that it can be used with or without the easily mounted and removed guide bushing.
The high-speed 10,000 rpm spindle enables optimized machining operations on smaller diameter bar material. The machining length per chucking is now extended to 200 mm enabling the number of re-chuckings and therefore cycle times to be reduced when machining long workpieces. As an option, bar material up to ∅ 25 mm can be machined extending the range of workpieces.
With its Fanuc Series 32i Model B System Control, the A20 offers quick setups and high speed, high precision performance. And with the additional X2 axis, front/back simultaneous machining is possible.
STANDARD NC FUNCTIONS
NC unit dedicated to the A20
8.4 inch color LCD
On-machine program check function
Operating time display function
Preparation function
Spindle speed change detector
Nose radius compensation
Constant surface speed control function
Program storage capacity: 80 m (approx. 32 KB)
Product counter indication (up to 8 digits)
Automatic power-off function
Continuous thread cutting function
Pre-processing function
Tool offset pairs: 49
Sub micron commands
Spindle synchronized function
High speed rigid tapping function
Chamfering, corner R
Canned cycle drilling
Drawing dimension direct input
Multiple repetitive cycle for turning
User macros
Y-axis offset
Front/Back spindle C-axis function
Tool life management I
Tool life management II
Network I/O function
Inch command
Sub/inch command